The electronic head pressure control modulates condenser fan motor speed by varying the air volume through the condenser. The control monitors the head pressure by sensing the sub-cooled liquid line temperature.
Typically utilized on new, energy efficient ECM condenser fan motors in air conditioning and refrigeration systems.
880-ECM(SS) Model
for PWM Control of single motor condenser applications,
880-ECM(VDC) Model
for 0-10 VDC control of single motor condenser applications, and
880-ECM(DS)
Model for multi motor refrigeration applications.
ECM (brushless dc) Motors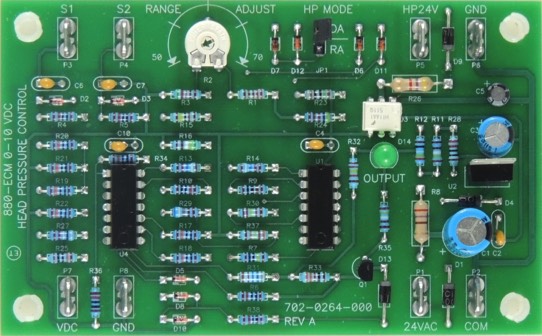 Improves system performance while saving energy
Non-invasive sensor requires no system penetration
Eliminates compressor slugging
Sensing is independent of all refrigerant types
Commercial A/C
Computer rooms
Hospitals
Grocery and convenience stores
Frozen food storage
Humidity or temperature sensitive environments
Cooling tower fans, glycol coolers
Liquid heat exchangers
Why Measure Head Pressure using Temperature instead of Pressure?
Many people assume that the best way to control the head pressure from a compressor is to directly sense the line pressure using a sensor inserted into the liquid line.
Data Sheets for Models Available