Replacement Flow Controllers
The 201-7BR(DA) controller provides the same function as the
200-3 Series Electronic Flow Control
but it also includes the damper actuator. It is capable of precise air flow and temperature regulation within the space being served by the terminal unit.
This controller also directly replaces the discontinued models 201-5 and 201-7.
The 201-7BR(DA) can provide pressure independent control (with thermostat input), constant volume, or constant pressure regulation. The unique "flow through sensor" provides flow or pressure regulation over the entire flow or pressure range.
The pressure independent controller compares the flow signal with the electronic thermostat signal and meters the appropriate volume of air to the space, regardless of terminal (damper inlet) pressure. This control function is referred to as "Pressure Independent VAV Control".
This control can be customized with various
Interface Cards in the 202 Series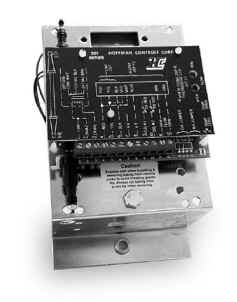 Typically utilized with a velocity pressure pickup, a thermostat, and an interface card in order to control airflow in a heating or cooling system.
Damper override (open or closed) is included
Adaptable to 3/8" or 1/2" shaft (adapter included)
Flow sensor responds to airflow from 0 to 4000 ft/min
Direct acting/reverse acting operation capability
Data Sheets and Instructions