Refrigeration Evaporator Fan Controller
The 759-ECM controller is designed for walk-in and reach-in coolers and freezers that have continuously variable speed ECM evaporator fan motors, such as the ICE-59 and the ICE-142. This controller provides maximum efficiency, reduced compressor tun time, reduced product shrinkage, and increased product shelf life by continuously varying the evaporator fan speed depending on the vault temperature.

It is well-known that a two speed evaporator fan and control can provide energy savings by reducing the air flow during the compressor-off part of the cycle. This controller takes the technology to a new level by continuously varying the fan speed as the vault temperature rises during the compressor-off period.

The only sensors used by this control are temperature sensors, used to detect when the expansion valve is operating, the vault temperature, and the presence of ice (for medium temperature applications).
Continuously variable speed ECM motors
Walk-in and reach-in coolers and freezers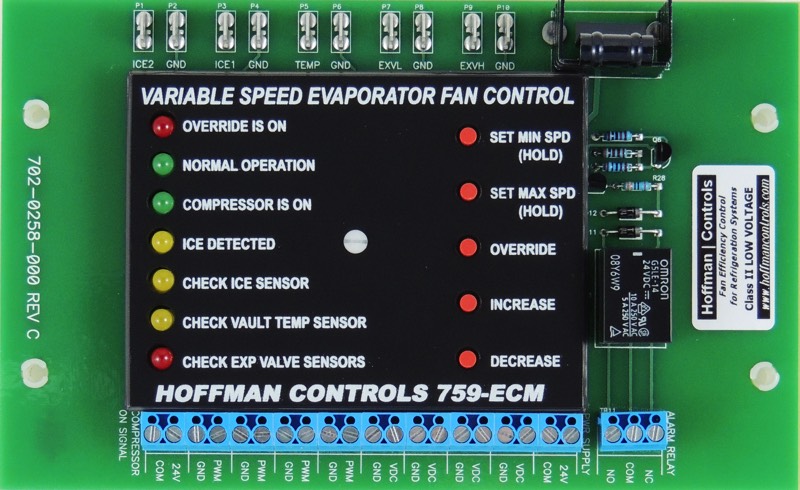 Optimally varies the speed of the condenser fan motor
Automatically adjusts to thermostat settings and the refrigeration cycle
Simple installation does not require changes to thermostat or compressor wiring
No programming or set-up necessary for basic operation
Adjustable maximum and minimum fan speeds
LED indicators for error conditions and normal operation indication
PWM and 0-10V outputs for control of ECM Motors
Up to 12 motors may be controlled simultaneously
Override button allows bypass of control to keep fans at maximum speed
Frost detection for medium temperature applications sets fan to maximum speed
External alarm dry contract relay for error conditions
Data Sheets and Instructions