Digital Step Controller / Sequencer
The 904 and 745 Controllers have identical functions except that the 904 adds a pulse width modulated output signal to control a continuously variable power switch(such as
905 Series
) or motor, thereby providing a continuous range of output power based on the input signal.
The 904 and the 745 Series Sequencers accept 2-10 VDC and 0-20 mA input signals and sequence up to 14 stages of isolated pilot duty relays in order to match the demand.
The 904 and 745 Series Sequencers feature an optional on board thermostat step point with a remote temperature sensor for dedicated heating or cooling applications. The
906 Series Thermostats
can provide the signal to drive these sequencers.
Also available is a PI function which serves to modulate the output as required in order to drive a sensor signal (temperature, flow, pressure) to match the set point.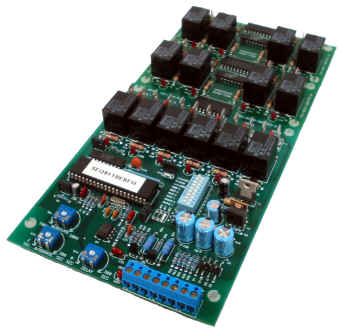 Compressors or unloaders
Pumps
Blowers
Fans
Boilers
Electric heating elements
N.O. isolated relay outputs
LIFO or FIFO operation
Adjustable stage delay
LED indicator for each stage
Adjustable integration time of PI function
Data Sheets and Instructions